Hey there my lovelies,
Welcome Back to my Blog!
Wow do not even remember the last I posted one of these. I used to love watching these shows year after year and potting done my faves so I can then share with you guys! But like everything else Covid has kind of defeated all purpose for so many months now, however as things seem to be somewhat getting better one has to admit that thereis nothing quite like the Oscars.
2020 and 2021's awards season may have pivoted towards virtual ceremonies, pre-recorded appearances, and at-home fashion moments, but the Academy Awards felt like a return to form. An entirely in-person event conducted at dual venues to adhere to COVID-19 safety precautions, it brought out the stars in a way we haven't seen. Just as Golden Age stars used their on-screen personas to bring fantasy to viewers during difficult times, tonight's guests seemed intent on restoring the elegance once synonymous with the big screen.
Needless to say I was here for it!!!
Regina King in Louis Vuitton
The "One Night in Miami" director spread her wings in this stunning sky blue Louis Vuitton gown with full on butterfly-inspired shoulders. Adorned with approximately 62,000 sequins and 3,900 Swarovski crystals!!! I have it by good authoiruty that it actually set an embellishment record for the fashion house. I just am in awe of this creation 10/10.
Carey Mulligan in Valentino Haute Couture
The "Promising Young Woman" actress made a dramatic entrance in this cutout copper Valentino Haute Couture gown covered with iridescent sequins with a huge skirt and bandeau top. Hats off for sudden boldness, but the proportions are a little odd in my opinion 7/10.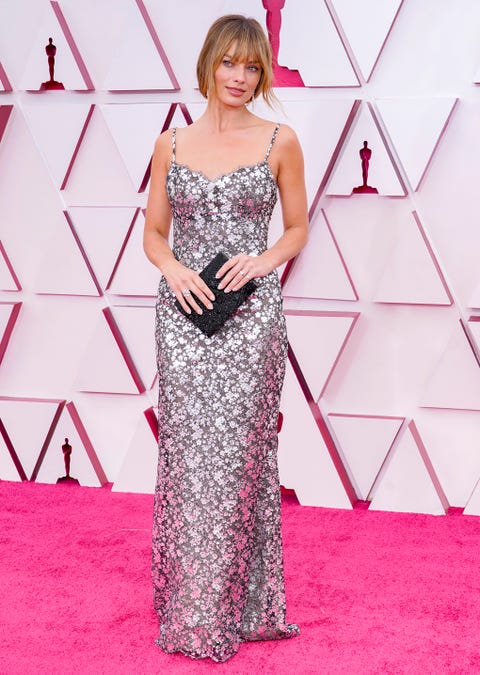 Margot Robbie in Custom Chanel Haute Couture
Robbie appeared on the evening's carpet not as an actress, but as a producer of the highly lauded Promising Young Woman. She dressed for the occasion in a Custom Chanel Haute Couture sheath metallic lace with a low back and thin straps, I beleive from the Fall-Winter 2019/20 Haute Couture collection by Virginie Viard. It wasn't among the showier looks of the night, but it was one of the prettiest hands down and had a quietly chic quality to it—if that cabe be said about a silver gown! 8/10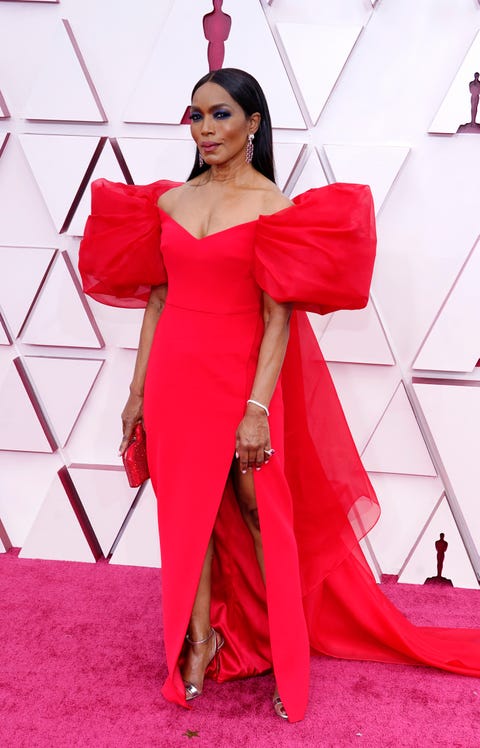 Angela Bassett in Custom Alberta Ferretti
Angela Bassett embodies agelessness in a custom red crepe off-the-shoulder gown with draped organza shoulders and train in Custom Alberta Ferretti and Chopard jewels. The '80s-influenced look is all about drama and sleek hair tucked behind the ears. Angela Bassett knows how to command a red-carpet and always manages to step out in something that keeps all eyes on her! However in this nu,ber it's the angel wing sleeves for me. 9/10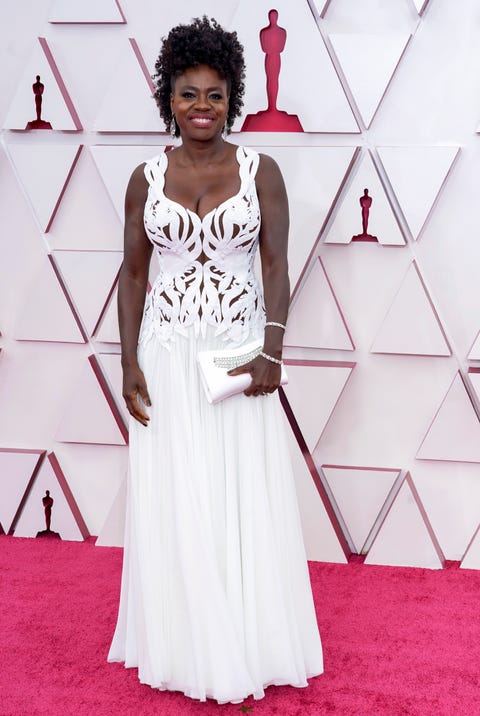 Viola Davis in Alexander McQueen
No stranger to the Oscars red carpet, Davis—up for a lead actress statue—is a vision in a custom white thistle applique gown by Sarah Burton for Alexander McQueen. She finished the look with a Jimmy Choo Venus clutch and Forevermark jewellery. The way the whole look comes together, from the hair to the skirt, the soft and hard elements of it all it just makes me fall in love with the ensemble execution. 9/10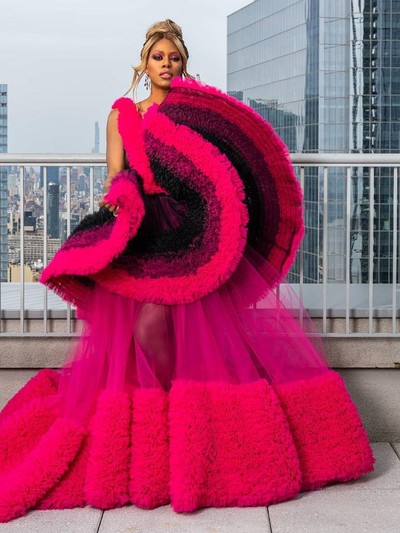 Laverne Cox in Christian Siriano
Promising Young Woman scene-stealer Laverne Cox did not disappoint in a standout ruffled gown by Christian Siriano. Made from over 1,000 yards of tulle, the neon fuchsia-and-black gown is just stunning. Not a fave colour of mine however, I would wear this in a heart-beat. 10/10
So there you go guys the end if the red carpet season, did you enjoy this series? I love working on them and catching up with the latest off the runway trends
Catch you all next season.
Until next time,
Disclaimer : Photo credit : Getty images